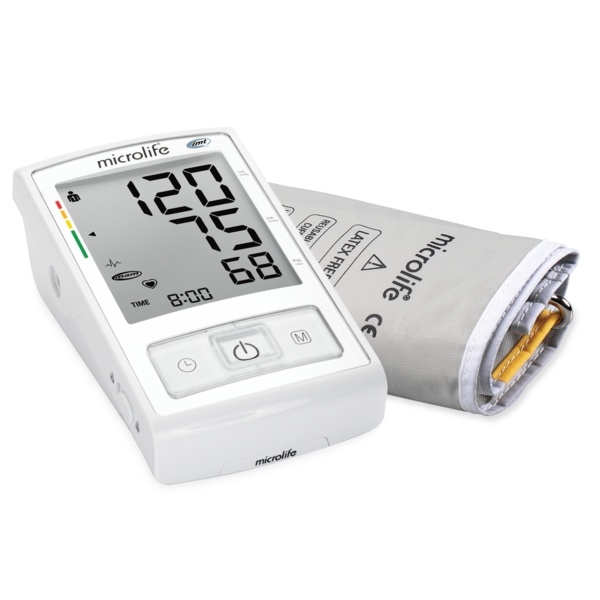 Advanced Blood Pressure Monitor
with IMT Technology
PAD

Detection of
Irregular Heart Beats


Features
A3L Comfort has a large display and IMT technology, which guarantees gentle measurement during inflation. Additionally, the device is equipped with Microlife's patented MAM technology, which automatically takes three consecutive blood pressure measurements and provides the average as recommended by doctors.
IMT Technology
IMT ensures a quick and comfortable measurement
2 User function
With up to 99 memories per user
Traffic Light Indicator
Understand measurement data intuitively
USB Port
For easy PC connection
Battery
Rechargeable battery-friendly
Lock/Unlock
Easy Lock / Unlock function
MAM Technology
MAM - Microlife Average Mode 3 measurements in 1 click
IMT Technology
for fast, accurate and extra comfortable measurements
22-42 cm Cuff
Conical cuff for all common arm sizes
Inflation Mode Technology
(IMT Technology)
The new and innovative Microlife IMT (Inflation Mode Technology) ensures an extra gentle, quick and accurate blood pressure measurement.
Specifications
Gentle measurement during inflation due to IMT technology
MAM technology: 3 readings in a row as recommended by doctors
Wide range conical cuff for better fitting
Large display
2 x 99 data memory / 2 users
Time and date adjustable
Equipped with carrying bag
Low battery indication
Mains adapter port
Rechargeable battery-friendly
Mod. No.: BP A3L Comfort
Size: 143 x 85 x 58 mm
Gross weight: 385g (with batteries, cuff not included)
Battery: 4 pcs. 1.5V alkaline batteries, size AA
Measuring range: 20 - 280 mmHg
Support, Software & Manuals
Find information, software and manuals. Contact our customer support if you would like our friendly agents to help you resolve an issue.
find support