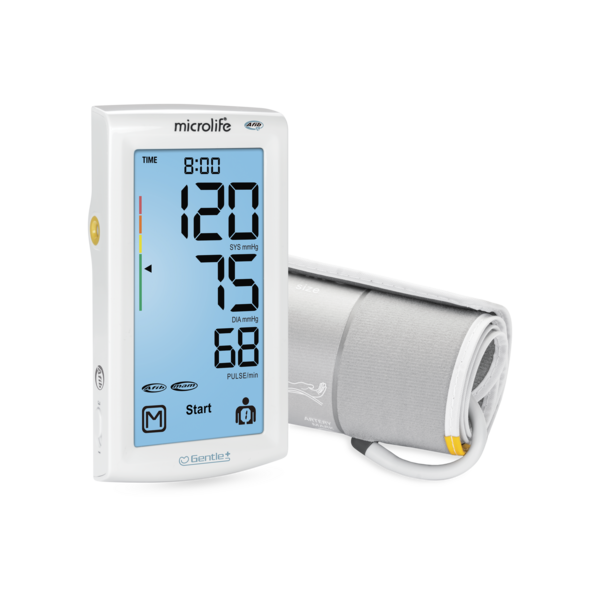 Advanced Blood Pressure Monitor
with Stroke Risk Detection
Features
A7 Touch combines the well-known and user-friendly touch screen technology with the innovative and accurate Microlife blood pressure technologies, creating the most advanced blood pressure monitor. A7 Touch enables atrial fibrillation screening during blood pressure measurement by using the famous Microlife AFIB technology*. This device allows you to store 99 measurements for each of two users and additionally enables you to measure in guest mode.
Microlife AFIB technology
Atrial fibrillation detection for stroke prevention
Touch screen technology
User-friendly touch screen
2 users with guest mode
2 users with guest mode and 99 memories per user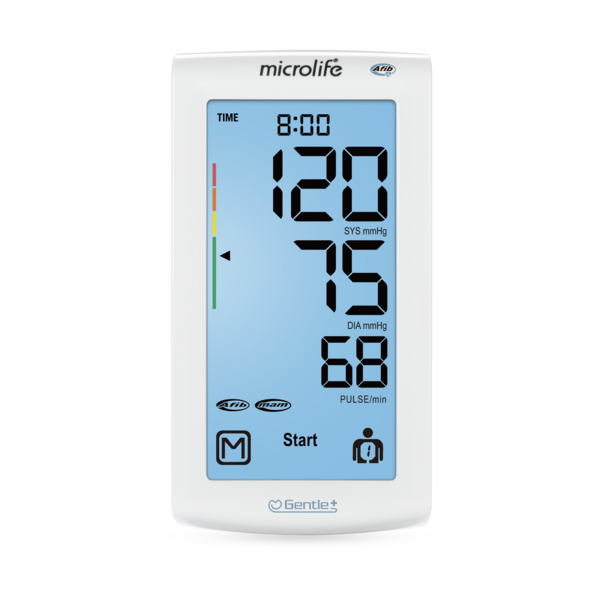 Lock switch
Easy lock/unlock function
PC connectivity
Easy analysis of your blood pressure values with the free blood pressure software
Power supply
Choose between battery or mains adapter usage
AFIB Technology
Atrial fibrillation detection for stroke prevention
MAM Technology
MAM - Microlife Average Mode 3 measurements in 1 click
22-42 cm Cuff
Conical cuff for all common arm sizes
What is
AFIB?
Atrial Fibrillation (AF) is the most common cardiac arrhythmia and a major risk factor of stroke.
The early detection of AF with the patented Microlife AFIB Technology can largely reduce the risk of stroke through early treatment.
learn more
Specifications
Atrial fibrillation (AFIB) detection for stroke prevention
Optimal speed and pressure control
Optional: USB PC-Connection and software
Stand to hold and store device and cuff
2 Users and a guest mode
2 x 99 Data memory
Extra large storage bag
Wide range conical rigid cuff for easy fitting and maximum comfort
Time and date adjustable
Rechargeable battery-friendly
Low battery indication
Cuff check indicator
Arm movement indicator
Model No.: BP A7 Touch
Size: 160 x 82 x 35mm
Gross Weight: 312g (with batteries,

cuff not included

)
Battery: 4 pcs. 1,5 V batteries, Size AAA
Measuring range: 20-280 mmHg – blood pressure
40-200 beats per minute – pulse
*In the USA, Microlife AFIB home blood pressure monitors are only available on a medical prescription.
Support, Software & Manuals
Find information, software and manuals. Contact our customer support if you would like our friendly agents to help you resolve an issue.
find support