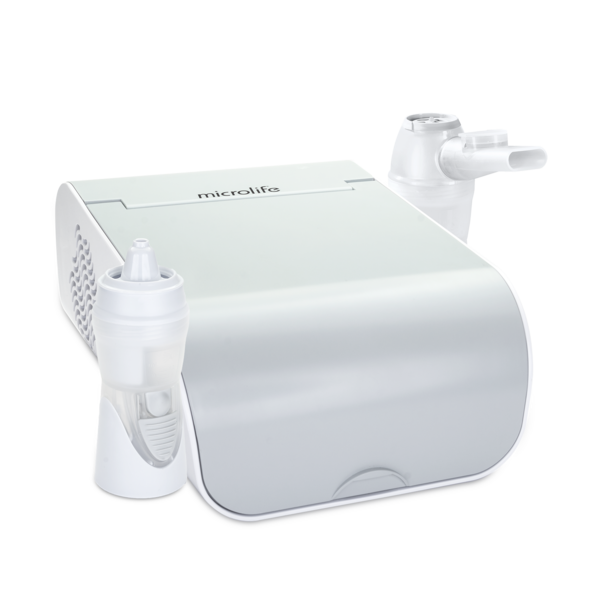 Professional compressor nebuliser
High performance system for the upper and lower respiratory tract
High performance system for upper and lower respiratory tract
Features
The Microlife NEB 10A 2 in 1 Professional is a complete aerosol therapy system for the treatment of the upper and lower respiratory tract. It is equipped with a strong and silent compressor suitable for continuous use. The advanced valve system optimally adapts the flow of medication during inhalation, reducing medication loss during exhalation.

Efficient treatment
High performance system for the upper and medium/lower respiratory tract.

2 in 1
Nasal washer for the treatment of upper airways, breath-enhanced nebuliser for lower airways.

High speed nebuliser
For short inhalation times.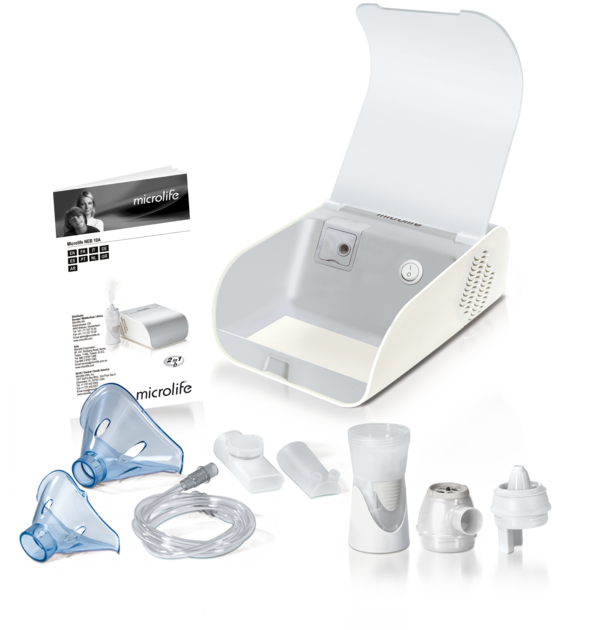 Biocompatible
Contains no phthalate nor bisphenol A.

Hygienic and safe
Accessories are washable and disinfectable.

Suitable for the whole family
Specifications
Breath enhanced nebuliser for lower airways and nasal washer for upper airways
Powerful piston pump
Large accessory compartment
Low noise level
Easy to transport
Supplied with adult & child facemasks, mouth piece, nose piece and spare filters
Cable storage
Mod no.: NEB 10A
Size: 280 x 270 x 107 mm
Weight: 1600 g
Nebulisation rate nebuliser: 0.55 ml/min
Particle size nebuliser: 2.83 µm* (75% < 5 µm) *Cascade
Nebulisation rate nasal washer: 5.58 ml/min
Particle size nasal washer: 34.9 µm* (75% > 10 µm) *

Cascade

Operating cycle: Continuous operation
Support, software & manuals
Find information, software and manuals. Contact our customer support if you would like our friendly agents to help you resolve an issue.
find support