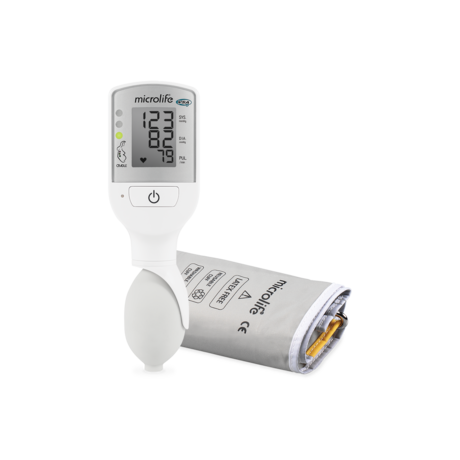 CRADLE VSA
Semi-automated office blood pressure monitor
Accurate
It took six years to produce an algorithm that is accurate in non-pregnant adults. Further modifications and rigorous testing ensured the device is accurate in pregnancy including women with high blood pressure, and uniquely women with low blood pressure in pregnancy.
Robust and low cost
The Microlife CRADLE VSA has been developed specifically to meet the World Health Organization criteria for use in a low-resource setting. It is at low cost with low power requirements. It is also robust, this means it stays extremely accurate even at extremes of temperature and humidity, after being dropped from a height of 2 meters and after being used more than 20,000 times at high pressures.
Innovation
The Microlife CRADLE VSA incorporates a novel early warning system. The vital sign results are shown as a traffic light display so that even those who do not recognise abnormal results are alerted to the need for action.
Recognition
The Microlife CRADLE VSA is the cheapest and most accurate blood pressure device available to use in pregnancy. For this reason, it has been recognized as one of the top thirty high impact innovations in global health in a recent PATH-led award to help accelerate progress towards the United Nations Sustainable Development Goals. It has also been adopted into the medical archives of the Science Museum, London.