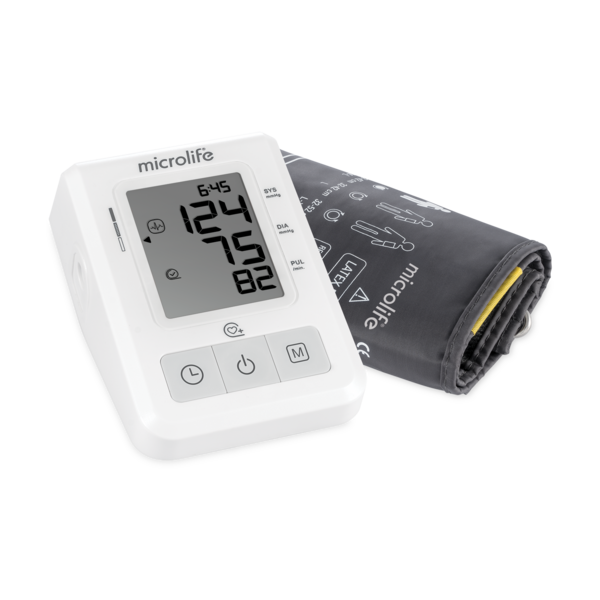 Blood pressure monitor
with arrhythmia detection
Features
Position the cuff, press start, measure - done! The Microlife starter model BP B2 Basic provides all the important features you need to measure blood pressure reliably: 30 data memory, PAD technology for arrhythmia detection and a high-quality cuff for normal and large upper arms. The new "cuff fit check" feature helps ensure the cuff is placed correctly on your upper arm for reliable measurements at home.

Arrhythmia detection
Pulse Arrhythmia Detection (PAD) for early alerts to possible heart arrhythmias

Gentle+
Optimal speed and pressure control for comfortable measurements

Washable soft cuff M-L
High-quality cuff for all common arm sizes (22-42 cm)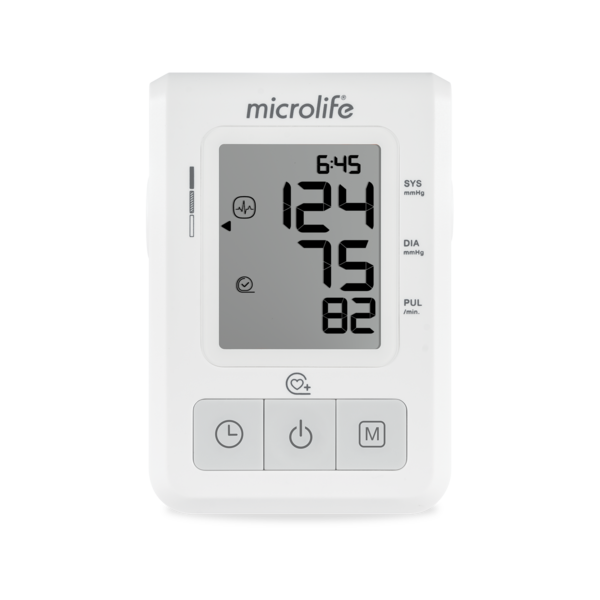 30 data memory
And average display of all stored measurements

Cuff fit check
Shows before each measurement, if the cuff has correctly been attached on your upper arm

Easy blood pressure classification
An indicator shows how your result is classified according to international hypertension guidelines
Instruction manuals

PAD technology
analyses pulse frequency and detects irregular hearbeats during blood pressure measurement.

Gentle+
is an optimal speed and pressure control for highest comfort during measurement.

Clinically validated
Validated for use in children (12+), patients with diabetes, renal disease, pregnancy/pre-eclampsia and obesity.
What is
PAD?
The PAD technology (Pulse Arrhythmia Detection) detects irregular heart beats during blood pressure measurements.
If an irregular heart beat occurs during the measurement, the PAD symbol is displayed.
learn more
Specifications
Fully-automatic for upper arm
PAD technology
Gentle+
Cuff fit check
30 data memory
Average of stored measurements
Easy indicator for blood pressure classification
Movement indicator
Adjustable date and time
Low battery indicator
Rechargeable battery-friendly
Accessories: conical M-L soft cuff (22-42cm), 4 x AA alkaline batteries, textile soft bag and BP diary
Model no.: BP B2 Basic
Dimensions: 131 x 90 x 60.5 mm
Weight: 277 g (including batteries)
Voltage source:
4 x 1.5 V alkaline batteries;
size AA or mains adapter DC 6V, 600 mA (optional)
Measuring range:
20 - 280 mmHg (blood pressure)
40 - 200 beats per minute (pulse)
Support, software & manuals
Find information, software and manuals. Contact our customer support if you would like our friendly agents to help you resolve an issue.
find support
Learn more
Find more information about clinical validations and technologies