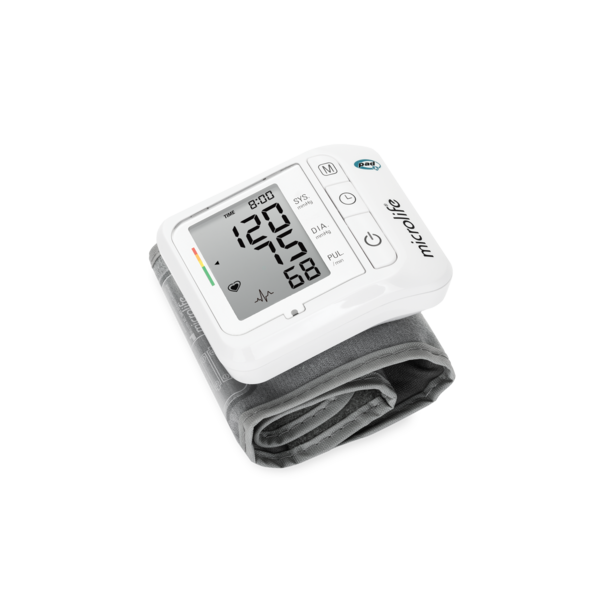 Wrist blood pressure monitor
with PAD technology
Features
The Microlife W1 Basic is an automatic wrist blood pressure monitor with LED positioning indicator, which helps the patient to find the correct wrist position for an accurate blood pressure reading. Moreover, it is equipped with PAD technology for the early recognition of heart arrhythmias and records up to 60 measurement values.

Traffic light indicator
Helps to quickly evaluate the blood pressure value

PAD technology
Detects possible heart arrhythmias

60 data memory
Automatic storage of the last 60 readings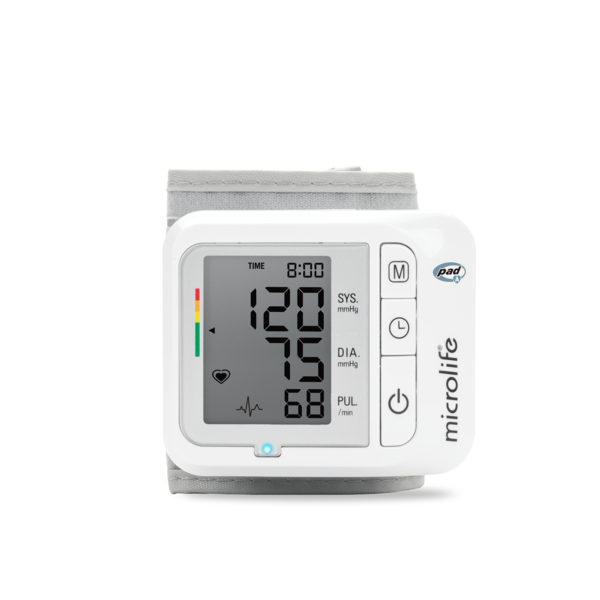 LED arm position indicator
Helps to place the device at heart level to ensure accurate measurements

Adjustable date and time
Easier follow-up of the stored blood pressure values

Batteries
Rechargeable battery-friendly (2xAAA alkaline batteries)

PAD technology
Early alerts to possible heart arrhythmias

Gentle+
Optimal speed and pressure control
What is
PAD?
The PAD technology (Pulse Arrhythmia Detection) detects irregular heart beats during blood pressure measurements.
If an irregular heart beat occurs during the measurement, the PAD symbol is displayed.
learn more
Specifications
LED arm position indicator
PAD technology
Gentle+
60 Data memory
Traffic light indicator
Adjustable date and time
Cuff check indicator
Arm movement indicator
Low battery indication
Rechargeable battery-friendly
Equipped with storage box, 2xAAA alkaline batteries and BP diary
Model no.: BP W1 Basic
Dimensions: 73 x 66 x 38 mm
Weight: 124g (with batteries)
Voltage source:
2 x 1.5 V alkaline batteries; size AAA
Measuring range:
20 - 280 mmHg (blood pressure)
40 - 200 beats per minute (pulse)
Support, software & manuals
Find information, software and manuals. Contact our customer support if you would like our friendly agents to help you resolve an issue.
find support