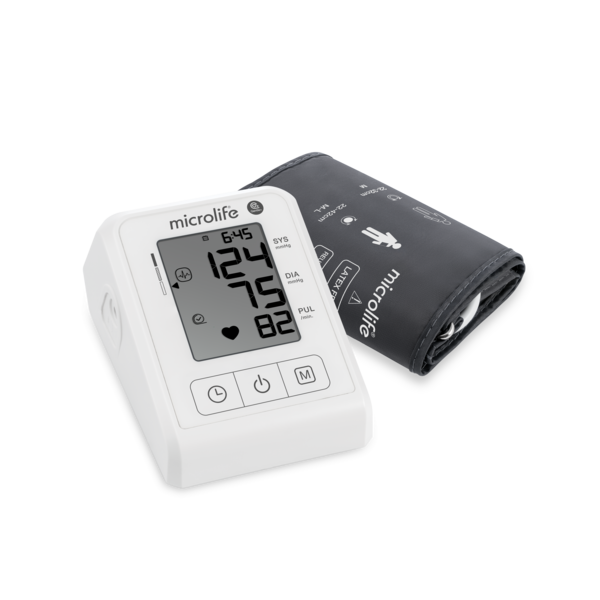 Blood pressure monitor
with optimal speed and pressure control
Features
The BP B1 Classic is an accurate blood pressure monitor with the optimal speed and pressure control technology, Gentle+, for home blood pressure measurements. This advanced technology increases comfort during blood pressure measurements at home, by usual Microlife accuracy – Thereby making all our hypertension patients feel well cared for, all of the time.

Detection of irregular heartbeat (IHB)
for early alerts to possible heart irregularities.

Gentle+
Optimal speed and pressure control for comfortable measurements

30 data memory and average display
Automatic storage of the last 30 blood pressure values and display of mean value of all stored readings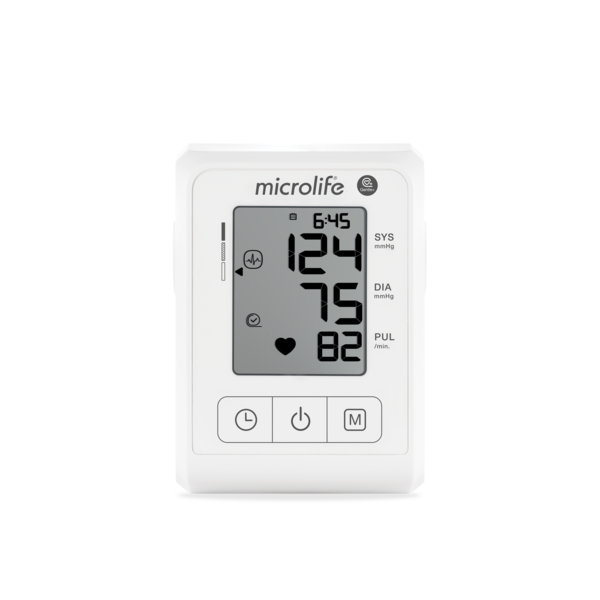 Cuff fit check
This helpful new feature displays if there is a sufficient cuff fit on the upper arm.

3-level blood pressure classification
Easy interpretation of the shown measurement result as it is recommended by international hypertension guidelines

Date and time
to check your stored blood pressure values over a long-term period

IHB technology
Early alerts to possible heart irregularities

Wide-range cuff M-L (22-42cm)
Possible for use in people almost common arm sizes from arm circumferences with 22cm up to 42cm

Gentle+ technology
Optimal speed and pressure control during blood pressure measurements at home
What is
IHB?
The IHB technology (IHB = Irregular Heartbeat) detects heart irregularities during blood pressure measurements.
If an irregular heartbeat occurs during the measurement, the IHB symbol is displayed.
learn more
Specifications
IHB technology
Gentle+
30 data memory
Memory-average function
Easy blood pressure classification with 3-level scale
Low battery indicator
Rechargeable battery-friendly
Equipped with 2 pcs AAA alkaline batteries, BP diary and non-washable M-L cuff (22-42cm)
Model no.: BP B1 Classic
Dimensions: 124 x 92 x 61 mm
Weight: 251g (including batteries)
Voltage source:
4 x 1.5V alkaline batteries; size AAA
Measuring range:
20 - 280 mmHg (blood pressure)
40 - 200 beats per minute (pulse)
Highest measuring accuracy with clinical A/A grade according to the British and Irish Hypertension Society (BIHS).
Support, software & manuals
Find information, software and manuals. Contact our customer support if you would like our friendly agents to help you resolve an issue.
find support